Living in Ebisu
Guide to Ebisu, a popular expat residential area in Tokyo.
The area around Ebisu Station, JR Yamanote Line / Hibiya Line
Addresses included are: Ebisu, Ebisu-Nishi, Ebisu-Minami, Hiroo, and Higashi in Shibuya-ku, Mita in Meguro-ku.
Thanks to the JR Yamanote Line, many areas within Tokyo are easily accessible from Ebisu. The Tokyo Metro Hibiya Line also offers good access to many areas within Tokyo including Roppongi. The housing environment is not only good, it is also adjacent to Daikanyama, Shibuya, and Hiroo along with all the benefits of being close to Ebisu station. The area is popular for residential living with its atmosphere of both a refined high class area and a traditional friendly neighborhood.
Many restaurants, coffee shops, and even vintage shops can be found around Ebisu station. The area around the station is also known to have many famous ramen restaurants. Ebisu station acts as a hub station for those commuting from central Tokyo to many areas in Yokohama; here, the JR lines and a Metro line intersects with the Metro line connecting to the Tokyu Toyoko Line. The station also gets many visitors throughout the day acting as a doorway to the adjacent commercial areas.
Ebisu is also famous as the location for the head office of Sapporo Breweries Limited. The Ebisu Garden Place, where the old factory site of the company was redeveloped, includes a department store, many shops, restaurants, a museum, a concert hall, a hotel, an office building, and a high-rise apartment building. The Ebisu Prime Square near the station is another multi complex with a stylish atmosphere.
There is a high class residential area called Chojyamaru to the south east of Ebisu Garden Place. It is a quiet area where high grade low-rise condominiums and single-family houses stand side by side, you can find a lot of luxury rental apartments for foreigners in this area.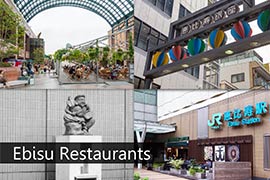 A perfect getaway from the chaos that lies just around the corner, Ebisu hosts more than enough tasty dishes to drive your palate wild.