Living in Yoyogi
Guide to Yoyogi, a popular expat residential area in Tokyo.
The area around Yoyogi-Uehara and Yoyogi-koen Station, Chiyoda Line / Odakyu Line, and the area around Yoyogi Station, JR Yamanote Line.
Addresses included are: Uehara, Oyamacho, Nishihara, Moto-Yoyogicho, Yoyogi, Tomigaya, and Yoyogi-Kamizonocho, all in Shibuya-ku.
The Yoyogi area is nearby Shibuya and Shinjuku and is convenient for shopping. It includes the areas around the Yoyogiuehara Station, Yoyogikoen Station, and Yoyogi Station. Thanks to the JR Yamanote Line, Sobu Line, Metro Chiyoda Line, Shinjuku Line, and Oedo Line, the Yoyogi area has easy access to major business districts within Tokyo; such as Shibuya, Shinjuku, Otemachi, Akasaka, and Omotesando. It can be said that this area is the turn off for the downtown and suburb areas of Tokyo.
The neighborhood of Yoyogi 4-5 chome, on the west side of Yoyogi Park, consists of a hilly landscape, a sprawling upper-class residential area, and nearby foreign embassies. As it is a quiet and spacious low-rise residential area with convenient access to Tokyo, it is most suited towards families.
Within walking distance to Meiji Jingu Shrine, the vast expanse greenery that is Yoyogi Park acts as an urban oasis within the concrete jungle of Tokyo.
Intersecting at the Yoyogi Uehara Station are the Odakyu and Tokyo Metro Chiyoda Lines. With low-rise apartments, luxurious condominiums, and detached houses throughout the area, this elegant upper-class area is popular among both Japanese and foreign families. For foreign families with children, this neighborhood has an easy commute to the British School and ASIJ. You can find various luxury rental apartments for foreign residents.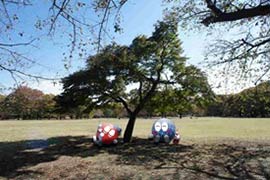 Yoyogi Park is the 4th largest park within the 23 wards of Tokyo. It's size is roughly the equivalent to the space of 11 Tokyo Domes. In this spacious park you can see the largest piece of unobstructed sky in central Tokyo.